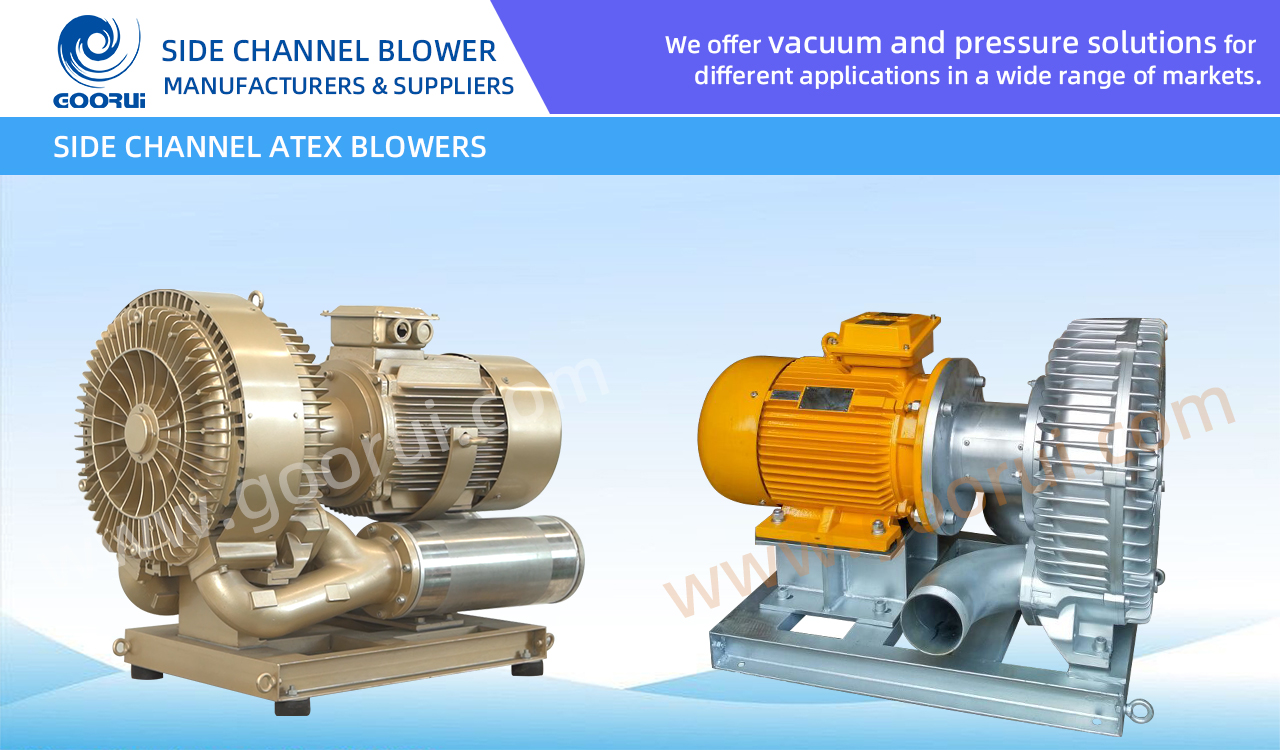 SINGLE AND DOUBLE STAGE SIDE CHANNEL ATEX BLOWERS AVAILABLE FOR PURCHASE
These innovative side channel blowers are primarily designed for biogas, air, methane and technical gases treatment.
The possible combinations between single and double stage, with the different types of impeller and with the range of rotation speeds, allow these side channel blowers to cover a wide range of operating fields, ensuring the best technologies for each project.
FIELDS OF USE OF ATEX SIDE CHANNEL BLOWERS
Compact and modular design, absence of vibrations, ease of installation, impossibility of gas contamination, low noise level and absence of pulsations in the treated gas flow make these turbines extremely versatile.
Production sectors include manufacturing, handicrafts, textiles, pharmaceuticals, aerospace, food, medical, agriculture, water purification, drying plants and pneumatic conveying. The most common applications concern controlled suction of biogas sent to flare or burner and gas extraction from tanks and plants.
ATEX, RoHS AND CE CERTIFICATIONS
When a product is destined to be used in a potentially explosive atmosphere due to the presence of gas or dust, if installed in a member country of the European Union, it must necessarily be certified according to the ATEX (ATmosphéres EXplosible) directive, regardless of where it has been manufactured.
The certified products must have a CE marking plate, specific marking of protection against explosions (Epsilon-x, in the hexagon) followed by group (I or II) and category; for group II the letter G is added for gas equipment while those for dust are identified by the letter D (Dust).
The EU RoHS regulation concerns restrictions on the use of hazardous substances in electrical and electronic equipment, in order to protect human health and environment; it also establishes the modalities for waste disposal and ecologically correct recovery.
The established constraints concern the following substances: lead, mercury, cadmium, hexavalent chromium, polybrominated biphenyls and polybrominated diphenyl ethers. Our side channel blowers are all ATEX, CE and RoHS certified.
If your business depends on quality performance from air technology equipment, then come and talk to GOORUI to find out more about our air technology services and solutions.